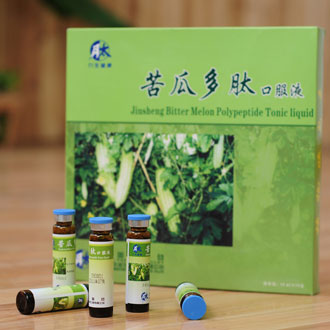 Jiusheng Bitter Melon Polypeptide Tonic Liquid, new theory of polypeptide hypolglycemic.
Jiusheng Bitter Melon Polypeptide Tonic Liquid made from the pure and natural balsom pear, and degrade it by bioengineering technology and get the function gene of hydroglycemic polypeptide. Function experiment has proved that can regulate blood sugar by activate insulin and its accepter. It has no poison or side effects and can be used safely.
[Characteristic]
1. Improve the insulin's efficient utilization of human body. It will not happen with low blood sugar by sole or over take it.
2. Ease patient's insulin burden, it has a active significance to the recovery of short-term patients insulin function, and also has the active significance to postpone and hold back the recession of insulin function of long-term patients.
3. Composed by pure and natural plant, has no poison or side effects, no allergy action, no drugfastness, will not have crossing action with normal drug, and use safely.
4. It regulate the blood sugar and simultaneously can reduce cholesterin and glycerol three fatty acids, it also can prevent the brain, heart, or blood vessel diseases with caused by diabetes.
5. Can be taken it easily and safely.
[Recommended for]
1. Adapt to every type of diabetes, especially has a good effects to diabetes 2.
2. Prevent high risk diabetes patients who has a family history of fat diabetes, or patients with declining sugar tolerance.
[Suggested dosage]
1. For the second type diabetes patients to regulate blood sugar: take 15-30 minites before meal, tonic take it 3 times a day, and 10ml for each time.
2. For high risk diabetes patients can refer to the second type diabetes patients' dosage.
[Specification] 10ml*10 bottles